HARRIS GENEALOGY
GENEALOGY INDEX
HOME
---
Genealogy and Family History Pages
Surnames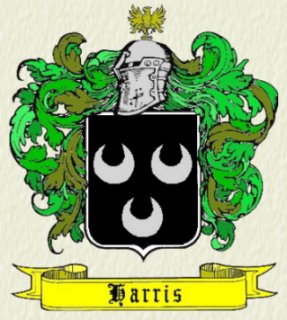 I found these "Coats of Arms" on Designs of Wonder.

---
Originally of Norman usage Le Herice, means son of the property ruler, which later became Le Herisse and Heriz. Derbyshire England 1066 A.D. seems to be the first recorded use of the surname Harris. William the Conqueror granted them land there for fighting in the Battle of Hastings. Harries, Harrys, Harryss and Haris, are more versions of the same name.
---
Henry Harris
The persuit of religious freedom. All of this mans travels were for that freedom.

His family was origianlly from Glamorgan, Wales. They were Welsh Baptists, and first migrated to France. Later they moved back to Wales. While in France they became associated the Hugenots. A family named Lanier, from France later migrated to Wales, and finally to America, taking the Harrises with them. They came to the United States in 1691. Henry Harris and John Jourdan were granted lands, 10 miles square, in Powhaten county, Virginia. Between 1691 and 1716 the Hugenots immmigrated, all originally lived within this 10 miles square plot.

Some people believe this Henry is the father of all the Harrises coming from the VA, NC, SC, and TN areas.
---
I see a researcher listing John Harris, born Strachur, Argyll, Scotland, as the father for Isaac.

I will need to look into that possibility.
---
This family covered a lot of ground. From 1771 in VA> NC> SC> TN> IL> IA> OR> Alberta Canada> MT in 1925.
Isaac Harris and Unknown
Isaac HARRIS b 1729 in VA. He was killed in a Revolutionary War battle, refered to as Foreman's Defeat, in Sept 27, 1777 in VA. This battle took place on the Ohio river, at a place named McMechen Narrows.
---
Reuben Harris and Unknown
Reuben HARRIS b 1771 in VA died 1845 in IL.
1790 Greenville County SC.
1800 Greenville County SC.
1810
1820 Jackson county TN. Reuben Harres
1830 McDonough County IL.
1840 McDonough County IL.
---
Isaac Harris and Unknown
I would like to thank Verda Baird for her help on this Isaac-Andrew connection. She is a researcher in Jefferson co., IA. She read my post to that county's message board (on RootsWeb), and responded. She found and copied Isaac's probate papers, the 2 guardianship papers, the 1856 Iowa census, and she included a map showing the cemetary where Isaac is buried.
Isaac HARRIS b 1796 in NC died 1866 in IA.
On the 1830 McDonough county census Isaac is listed right with Reuben Sr, Reuben Jr, and James. The census information is 211101/010001 making him 30-40 years old.
1840 census again in McDonough page 223 1111101/1010001. Reuben Sr, and Reuben Jr are on page 224
On the 1850 census, District 26, Keokuk, Iowa. Begining on line 38 page 241(482) and continuing on page 242(483), dwelling 259 family 275. Isaac Harris 56 b TN, and Eliza 39 b LA, have the following household
Wm 17 b TN,
Simpson 14 b IL,
Sarah 13 b IL, Andrew 8 b IL,
Howard Shepherd 17 b TN,
John Shepherd 14 b TN,
Female? Shepherd 10 b ??,
Sally Shepherd 8 b TN,
Harriet Shepherd 2 b TN.
Ancestry.com has a listing for an Isaac Harris listed on an 1852 census for Keokuk county, Steady Run Twp. I will try to find a functional version of this.
On the 1856 Iowa census he is in dwelling 143, his son Reuben is in 145. That census says he is 60, born in SC , 6 people live in his household, he has been in Iowa 8 years (his son Reuben has been in Iowa 12 years). His family followed him to Iowa 1 year later, as the census says they have only been in Iowa 7 years.
Eliza, 50, born LA;
Simpson, 20, born IL;
Andrew, 13, born IL;
Harriet Harris, 8, born TN;
and Isaac, 5, born IA. 7

The 1860 Iowa census for Locust Grove page 270 line 38 lists Isaac 64, born in NC this time. His family is Eliza 50,
Andrew 17,
Harriet Shephard 12,
and lastly a mistake, line 2 of page 271 lists an Isaac 10, on the AIS census index it lists him as Joanne?.
Living with Reuben Harris, also on page 270 is a Jeffery M Martin, perhaps a child to Elizabeth (Harris) Martin.
Isaac's son Reuben is listed as the Guardian for an Andrew Harris born 1849 the minor son of James Jefferson Harris. An Andrew Smith became the Guardian for Isaac, the youngest son of Isaac (he had 2 sons named Isaac). Reuben Harris and Andrew Smith were alternately principals and sureties for the above.
The probate document from Jefferson county, lists the following heirs, Eliza Harris, Reuben Harris, Mary Harris, William Harris, Mary Jane Harris, Simpson Harris, Mary Josephine Harris, Andrew Harris, Martha Harris, Isaac Harris, Mary Ann Harris, Elizabeth Martin the daughter of Elizabeth Martin formerly Elizabeth Harris, deceased, Matilda Betts, Nicholas Betts, Sarah Perry, Pleasant Perry, Andrew Harris heir of Jefferson Harris, deceased. It goes on to clarify the above listings like this "Andrew Harris and his wife Martha Harris". I have placed them on the GedCom in that relationship.
Eliza recieved as her dower 34 acres and 15 acres.
He is burried in the Walnut Hill Cemetary in Locust Grove, IA.
---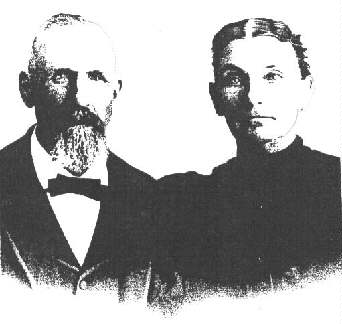 Andrew Jackson HARRIS and Martha Anna BRUNAUGH.
Finally there is an Andrew Jackson HARRIS break through. We have found an Andrew living with an Isaac HARRIS in Locust Grove, Jefferson, IA. This is on the 1860 census, and he is listed as 17 years old, our Andrew is born Oct 19 1842. Then in the 1870 census for Locust Grove, Jefferson, IA, Andrew's wife's family (BRUNAUGH or BURNAUGH)is there. This Isaac is the brother of James and Reuben HARRIS, all born in NC. Their father is a Reuben b 22 Mar 1771, in Brunswick VA.
My mom always commented that it seemed strange that Andrew didnt really know anything about his mother. I guess we can see that he had a stepmother by the time he was 8, so he wouldn't really have much recollection. There was a bit of confusuion with the 2 Andrews, 1 born 1842 the other born 1849. It looks pretty straight forward now however.

---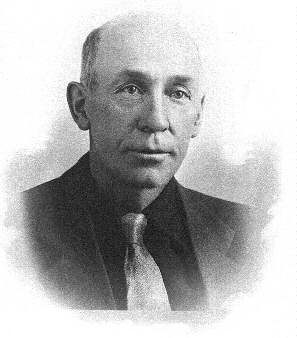 Joseph Lester HARRIS

---
Gladys Caroline Harris
and Philip Bert NELSON

Gladys Caroline Harris was born 9 February 1921 in Pandora, Alberta, Canada. She was the 5th child born to Joseph (Dode) and Kate Harris. She was about 4 years old when her family moved to Montana buying property on Post Creek near St. Ignatius, and later property nearer the Mission Mountains about ˝ mile from Hillside rural school. In 1991 she wrote down some memories from her childhood, and here are a few of them.

"Sewing came naturally to me and I was always making doll clothes. I remember once looking for some material to make a doll dress - and, lo and behold there was a dress on mother's bed. I proceeded to cut out a dress for my doll. Too late! It was Mother's new dress that she made to wear to the dance that night.

Daddy had purchased a car and we had been for a drive. On the way home the folks decided to visit a family that lived near Post Creek. They parked the car at the gate and walked the short distance to their house. I was in the driver's side pretending to be driving. Soon the car started rolling backward down the hill, over an embankment, and landed four wheels down in the creek. I was screaming and hollering. Daddy waded out and saved me. The neighbor had a team of horses which they used to pull the car back on land. My brothers, Verne and Max, made up a verse for me: 'Touch not the clutch when the car is near the creek.'

One year for Christmas Daddy made doll carriages for us from concord grape baskets. He put wheels on them and a tow string. I thought they were lovely.

Daddy whittled a dancing man. Dancing man was jointed at the shoulders, elbows, and wrists, and also at the hips, knees, and ankles. Dancing man hung by a string which was attached to a slim stick. Daddy would sit on a flat slat of wood with an extended platform, and with one hand would hold the dancing man over the platform and with the other hand he'd tap the flat slat gently and dancing man came to life and started dancing. Dancing man would dance to Daddy's dum de dum dum music. It was really fun to watch." (Granddaughter Zoe Nelson Gordon remembers seeingthe amazing dancing man perform..)

After Gladys married she became proficient at cooking, canning, sewing, washing clothes, ironing, and taking care of her 6 children.

At the age of 25 she took up smoking. Dad and his brother, Allen smoked, as did Allen's wife, Kay. They spent time together with their young families. Smoking was very glamorous and it seemed like all the movie stars were portrayed with a cigarette in their hand.

Gladys's young children would ask her to play baseball with them. She was so good at hitting the ball that they begged her to bat left handed. But still she was able to whack the ball. Years later the children learned that she was ambidextrous.

After Philip died she married Delmer Kephart in 1967 and moved to Ceres, California. She liked to shop for antiques. She acquired quite a collection of rolling pins for rolling out pie crusts. She painted them with bright colors and designs and used them for wall hangings. She began taking oil painting lessons. Most of the pictures she duplicated from magazines, cards, etc. But she painted an original for her son-in-law, Frank Gordon. It was a 3' X 5' painting of Grey Wolf Mountain as seen from the top of Evaro Hill., near Arlee Montana. She painted and framed a picture of the family home at Post Creek for each of her six children.

She left Delmer and went to live with her daughter, Gaye Laughrey in Nampa, Idaho. A short time later she was diagnosed with lung cancer. She died on Christmas Day 1997.