BURNAUGH
HOME
---
---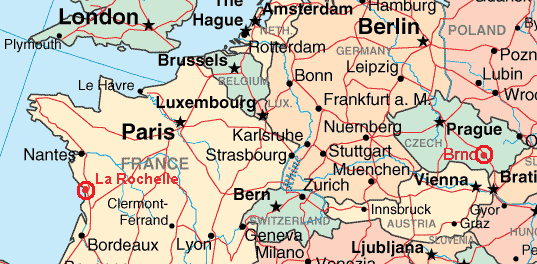 There is a city, and valley in Czech Republic named Brno, maybe the starting point, at any rate it is interesting. In its earliest archaeological records there are artifacts from virtually all prehistoric groups. Brno is thought to be the oldest permenant settlement in Southern Moravia. Between 500 - 540 AD the Slavic people migrated into the Brno valley. In 1019 Moravia was annexed by the Czechs. The name Brno is thought to come from the Old Slavic brn which means clay or mud, therfore it is settlement in the muddy area.During the 1200s German, Dutch and Flemings migrated into the Brno area. Also in that time frame they began minting coins, in Brno. In 1243 King Wenceslas I awarded Brno with the first city rights, which removed the city from control of the local nobilty, and placed it in a city council and mayor.
It is approximately 850 miles, as the crow flies, from Brno in the Czech Republic, to La Rochelle in France. If you spread that migration over a couple of generations it is certainly plausible.

If people indeed used the Paul de Brno (Paul of Brno) type of naming you could certainly see how the name became Bruneau in France.
---
This surname is listed as Brno, Bruno, Burnau, Bronaugh, Bronough, Brunaugh, and Burnaugh. There are probably other spellings for this name. There are many instances of them in Fauquier, King George, Louisa, Orange, Prince William, and Stafford counties in Virginia. Bruneau may be the original spelling before arriving in America.

While researching my Harris line I found some old references to Brunswick and/or Burnswick county VA, which is just a side note about the spelling of this surname. I had read some where that the Bruneaus had been Hugenots and migrated to Virginia about the same time as the Harrises. Their name was changed from Bruneau to Bronaugh, when they fled from France to England to avoid religios presecution.
---
Paul BRUNEAU
Born about 1600, in LaRochelle, France.
---
Paul BRONAUGH
Thought to have been born about 1624, in LaRochelle, France. He had 2 sons, William and Jeremiah , both died in VA in the early 1700s.
---
Carey BURNAUGH and Elizabeth Ann HILL
This is sort of a dead end. We know that this part of Ohio was referred to as the Virginia Military District. This land was given to Revolutionary War Patriots, from Virginia. There is also an 1802 census for the Northwest Territories. In 1802 Clermont County was northwest.
The HISTORY OF KNOX COUNTY, ILLINIOS, page 886, talks about Daniel BURNAUGH, it states that his grandfather was Carey BURNAUGH, who came from Virginia to Ohio, and that he was of French descent.
There is a Cary Bronaugh listed as having fought in the War of 1812. Roll Box 25, he was inducted as a Sergeant and discharged as a Lieutenant. He was in a Calvary company, from the District of Columbia.
1820 Census for Ohio, Clermont County, Batavia Twp, Page: 041 CAREY BRENAUGH is listed with 2 male children under 10 years, 3 males 10 to 16, 1 male 16 to 26 and a male over 45. The females are listed as 2 under 10, and 1 26 to 45.
Speculation and online rambling
I am leaning towards a connection to David Bronaugh born about 1630. He had 2 children that married Carys. His daughter Margaret married Richard Cary, and his son Jeremiah married Ann Cary. Out of this line you find Taliaferro Bronaugh who names a son George Cary Bronaugh, born about 1822. I also am thinking some of the other Brohaughs in Ohio are from this same stock. There are 2 other Bronaugh sons with the middle name Cary in Ohio in the 1800/1820 time frame.
There is also a Peter Burnaugh in Clermont at an early time. Peter's father was a pioneer, in Clermont County.
There is a William Burnaugh that arrived in Batavia, Clermont, OH in 1816. He had sons William and John. William Jr had sons James and John, both of whom migrated to MO. He also had another son David that died early. His brother John was a reverend and had sons William and John S. John S became a probate judge.
There is a John Carey Bronaugh born about 1808, his parents are William Bronaugh and Francis Carroll (from Loudon county Virginia). John Carey was born in either Maryland or Kentucky. He is however, buried in Amelia, Clermont, Ohio, in 1883. He is too young to be our Carey, but some possible insight. His grand parents are William Bronaugh and Mary Ann Grant. The apparent migratory route is VA >MD >KY >MO >OH.
There is also a George Carey Bronaugh son of Taliaferro Bronaugh he is also too young to be our Carey. Taliaferro migrated from b1776 VA >1801, KY and his descendants made it on to IL.

---
Born in Canada. Is it possible that his grand father was a Loyalist who went to Canada after the Revolutionary War? If Carey moved from VA to OH, how is it that Joseph was born in Canada?
In the photo at right, Joseph is in the center of the front row. He is surrounded by 3 daughters and 2 sons. Samuel is in the right, front, and Martha Anna is on the right, back, behind Samuel.
Joseph Brunaugh married Lydia Black on November 30 1826, in Galesburg, Knox, IL.
The 1830 census lists a Joseph Bronaugh residing in Stonelick (indexed as St. Onelick), Clermont, OH. Stonelick borders Batavia where Carey Brenaugh was living. There is also a John living in Stonelick.
There is a Joseph Burnaugh in Bloomfield, Logan, Ohio for the 1840 census. This very well could be our Joseph. He would be born 1800-1810 (1801), 3 sons born between 1825 and 1830 (James 1828, and twins John and George born 1830), and 2 more sons born between 1830 and 1835 (Joseph 1833 and Andrew 1834). His wife was born between 1800-1810? (Lydia 1812), and 2 daughters born between 1835 and 1840 (Martha Anna 1838, and Lucinda). So he could have purchased land in Illinois in 1830 and finally moved there between 1840 and 1850.
Joseph and Lydia had the following children, James, born 1828; John, born 1830; George, born 1830; Joseph born ; Andrew ; Matthew ; Martha Anna born,1838; Lucinda ; Samuel S; Sarah Ellen; Theresa ; Mary.
Joseph was a methodist minister.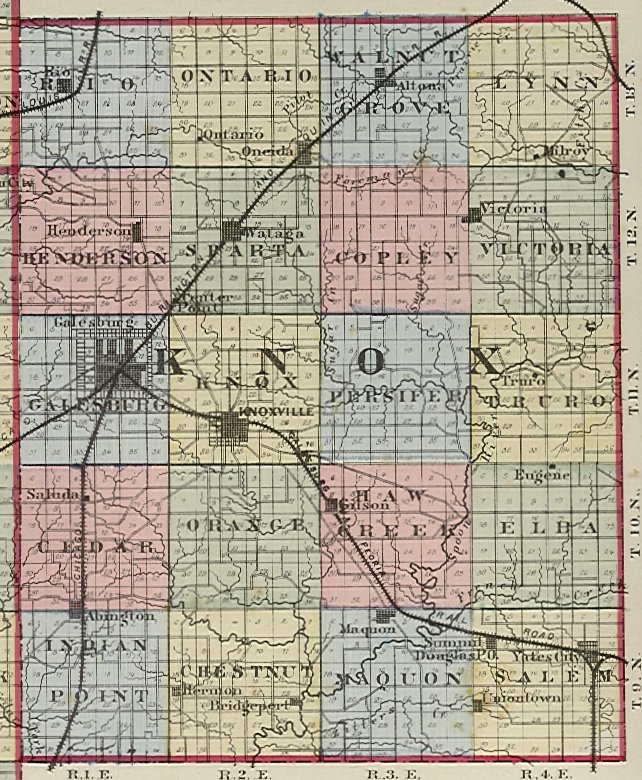 On October 10 1830, Joseph purchased land in Indian Point, Knox, IL. Township 9N, range 1E, meridian 4. He purchased 40 acres, @ $1.25, totaling $50.00. The lower right corner on the map, at right.
The 1850 census shows him at Knox county Illinois, township 9N-1E. He gives his birthplace as Canada.
The "History of Knox County, Illinois" states that Daniel Burnaugh was the son of John. He was a carpenter. However he left Ohio in 1856, and went to reside with his uncle Joseph in Abington, Knox, IL. You will notice Abington is on the north boundry of Indian Point (1E-9N) township. While not 100% conclusive it certainly points to Carey as being Joseph's father.
Listed as Joseph BERNS ( it looks like Burno ) on the 1860 census. Residing at Competine, Wapello, Iowa. Again his birth place is given as Canada.
1870 Joseph Burnaugh Locust Grove, Jefferson, Iowa
Joseph died February 06, 1878, in Wapello, Agency, Iowa. Other family to Joseph are listed as Barmaugh, for 1870.
April 04, 1876, Joseph married Elizabeth Ewing. Joseph died February 06, 1878 in Agency, Wapello, Iowa.

---
Born October 8th 1838, in Clermont county, Ohio. She married Andrew Jackson HARRIS, September 18, 1862. Their first child was born in Iowa during 1863, their second was born 1868 in Oregon. They would have traveled the Oregon Trail sometime between those dates.
Martha died November 03, 1923, in Portland, Oregon. She is buried at LaGrande, Oregon.