Haplogroup I, my GORDON DNA
HOME
To see a DNA study into my relationship with other Gordon lines follow this link. There is other information about possible source information for the Gordon surname.
To see the my Gordon line from 1635 to the present follow this link.
So now scientist think Amino acids, microbes, and other complex carbon atoms are passengers on asteroids and comets, refered to as meteorites if the strike the earth. The meteorites therefore delivered the building blocks of life as well as water to this planet. What about this right handed/left handed molecule disparity? They furthermore think the rate of evolution of new species correlates to the rate of impacts from meteorites. WOW. Below is the chart of some of the events that have taken place to make it possible that I can exist. You know, that extensive breeding program that culminates in ME.
The dates in this table are sort of averages. You can find many different opinions about these events. I personally believe the DNA scientists will end up refining there time frame to correspond to a quicker mutational rate. Just a hunch. I think there is too much diversity in the time frame they use.
There are continuity difficulties on this chart, because of the various differing opinions. Use it only as a rough guideline.
Years before Present
Event

16 - 13.7 billion

Big Bang Theory, begining of Universe

13 billion

Formation of huge, fast burning stars. They manufacture all elements up to iron, in their normal process. When they collapse and explode, even heavier elements are formed and spread through out the early universe. All future construction will be from the seeds of these first stars. We are made from this material, as is everything in the entire universe.

4.7 billion

Formation of Milky Way Galxay and our Solar System

4 - 3 billion

Formation of amino acids, bacteria, finally algae. This is the start of DNA

1.5 billion

Eukaryotes that became mitochondrial DNA first imported into cells, started as symbiotic relationship

700 million

"Snowball Earth" Ice Age, kills most life virtually encases the entire planet in ice.

65 million

Meteorite impact changes atmosphere, kills dinosaurs

2.4 million

Homo habilis, uses crude stone tools.

2 million

Homo erectus.

1.7 million

Series of climate changes that inevitably lead to ice ages. These ice ages create hardships for early man, that increases his thinking ability.

1.7 million

Some Homo erectus leave Africa

1.5 million

Acheulian tool making, this culture is spread from Africa to Southern Europe and South East Asia. There are 800,000 year old hand axes, of this classification, in China. Also use of fire in Kenya.

1 million

Early man may have used simple language.

500,000

Homo erectus' brain case has grown 25% during his tenure. He starts to use fire, and has spread from Africa to Europe, Asia and China.

400,000

Homo sapiens archaic appear.

250,000 - 28,000

Homo Sapiens Neanderthalensis appears. DNA shows some have red hair, green eyes, and pale skin. They also have the genes that allow us to enunciate? They shared locales with modern humans for thousands of years. Neanderthal survived for 200,000 years while modern humans have only been around for 100,000 years so far.

190,000 - 130,000

Possible drought in Africa that may have caused a bottleneck of humanity.

90,000 - 50,000

Homo sapiens appear, in the area of the Great African Rift. This southwestern area of Africa is full of fossil remains.

70,000

Mount Toba in Sumatra erupts, climatic change leads to 1,000 years of possibly the coldest ice age, average temprature was 9°C lower than modern times. Another possible bottleneck, roughly 15,000 humans survived, mostly in equatorial Africa.

60,000

10,000 Homo sapiens live in southern Africa.

50,000

Enviromental changes cause early humans leave Africa. They migrate up the coast eventually arriving in India and Austrailia. The first recognizable abstract thinking appears. Tools with discernable functions, art, organization, jewelry, and burial are the examples sited. My question is- how did this spread across the entire globe in just a few thousand years. People had spread from Africa to Austrialia and from Spain to Japan. Did these early people communicate and travel back and forth enough to spread this new Human intelligence? Or did it appear universally in multiple areas?

40,000

Cro-Magnon man appears. 50,000 year line also attributed to Cro-Magnon man.

35,000

A second migration from Africa. These people go to Asia, there they split and one branch goes to East Asia and another goes toward Europe.

34,000-23,000

Aurignacian Culture in Europe, thought to be Haplogroup R.

30,000

Neanderthals close to extinction.

28,000 23,000

Gravettian Culture thought to be Haplogroup I. They made Venus figurines, and mammoth bone structures. Possibly displaced, or assimilated, some Haplogroup R peoples from the Aurignacion Culture, see above.

24,000

The last Ice Age was just starting. It will continue for about 6,000 years.

20,000

Humans are in Greece.

15,000

Humans have crossed the Bering Straits into America.

11,000BC-8400BC

Ahrensburg Culture, northern Germany. Mesolithic Hunter/Gatherer groups. 6-8 people lived in Segebro, near Malmo, the Southern tip of Sweden.

10,000

7000BC

Maglemosian in Sweden and Fosna-Hensbaka in Norway. Mesolithic fisheries

6000BC

Kongemose in Southern Scandinavian Territory, Nostvet and Liholt in North. England and Europe are still connected by a land bridge. Rising sea levels will cover the bridge in the next few generations.

5000BC

Ertebolle Culture

4000BC

Funnel/Beaker people, pushed north into Sweden and Uppland

4000BC

Nostvet-Liholt become Pitted Ware people. Agriculture, Livestock

5500BC

Northern Africa dries out. Saraha desert starts to form.

3000BC, or 5000BP

Battle Axe Culture, thought to be the first Germanic Peoples

1800BC - 500BC

Bronze age in Norway

500BC - 400AD

Early or Roman Iron Age

98AD - 555AD

Sami or Finns reside in the area that is now Northern Sweden and Finland, domesticated Reindeer c 500AD. Sami are 40% haplo I

550AD - 800AD

Vendels in Southern Sweden

687AD

Vikings destroy Monastery at Whitbey, England.

793AD

Lindesfarne Monastery sacked.

1814AD

Norwegian Independance from Sweden
Root Stock
94,000
Years Before Present

The dates given for these mutations are Years Before Present.

There are varying opinions on the actual timeline for these mutations! Each box representing a HaploGroup actually represents a single individual, who is the father for all groups and individuals following in that HG. Each Haplogroup would have further branches and divisions, this chart only pertains to my version of HG I. HG F and its descendants constitute 90% of Earths male population. Most peoples of Africa, Tibet, Kazakhstan, Mongolia, Japan, Polynesia, and indigenous Australians do not descend from HG F.

M91

M42, M94, M139,257, 299, SRY-10831a
82,000 YBP
Parent for HaploGroups B → R

HG A
42,800 YBP

M16, M181, 249

M168, M294,
50,000YBP

M89, M213, M235
45,000 YBP
Parent for HG F → R

HG B
36,800 YBP

RPS4Y, M216, M316

YAP, M145, M203

HG F
50,300 YBP

M261

M69

S22 → I,J
2nd out of Africa migration. 45,000 YBP
(Cro-Magnon)

M9
Parent for HG K → R

HG C
27,500 YBP

M174

SRY, M96, P29, 4064

HG G
6,400 YBP

HG H
3,800 YBP

M170, M258, P19
20,000 YBP

M12f2.a, M304

HG K

35,600
YBP

M20, M22, M11, M61

M4, M5, M106, P35, M189, M186

LLY22g

M175, M204

92R7, P27, M45, M74
Parent for HG P → R

HG D
13,000 YBP

HG E
17,400 YBP

HG I
20,000 years BP
Gravettian Culture?

HG J
9,800
YBP

HG L
2,900 YBP

HG M
12,700 YBP

HG N
8,800 YBP

HG O
17,500 YBP

HG P
29,900 YBP

M242


M207


Haplogroup I is distinguished by the M170 marker. That is the filp flop of A->C at the M170 location.

Researchers think early Paleolithic hunter gatherers were comprised HaploGroup I, IJ peoples. They occupied "Europe" between 40,000 and 7,000 years ago. The Gravettian Culture, about 22,000 years ago, is contributed to haplogroup I.

During the last ice age, 18,000 years ago, haplogroup I peoples "holed up" in the Balkans and the Iberian peninsula. Roughly 10,000 year ago there may have been a migration of these people south from Scandinavia.

The megalithic structures in Europe are attributed to haplogroup I. The Ertebolle, 5300-3950BCE, and FunnelBeaker, 4000-2700BCE, cultures are thaught to have been I1a domains.

R1 came on the scene and displaced I in the 3000BCE time frame. This lends creadance to the possibility that ALL I1 peoples descend from a sinlge male around 5000 years ago.

HG I1
YBP

It appears that these early groups of Humans were assimilating each other as they migrated. Haplogroup I is thought to have arrived in Europe 20,000-25,000 years ago. Giving rise to the belief that the Gravettian Culture (HG I) replaced the Aurignacian Culture (HG R), in south western Europe. The R1b would then have become the Solutrean Culture. Some descendants of Haplogroup I may be associated with the Celtic peoples, as they were absorbed into that culture.

HG Q
17,700 YBP

HG R
16,300 YBP

M253, P40,
P30, M307

HG I1a
6,000-10,000 YBP
Some think this mutation took place in what would become southern France 6,000 Years ago

Smaller HaploType divisions within I1a

M227

M21

M72

M223

HT
I1a-N
Norse

HT
I1a-AS
AngloSaxon

HT
I1a-T
Transitional

HG
I1a1

HG
I1a2

HG
I1a3

HG
I1a4

HT
I1a-uN
ultra Norse

HT
I1a-uN2
Migrations into England, that may contain people of haplogroup I

Time
People
Origin
Haplo
Notes

30,000BC

Mainland Europe

Forced back to mainland by last Ice Age

8,000BC

hunter-gatherers

Mainland Europe

returned after last Ice Age

Beaker People

4500BC

Picts

Some include these people w/Celts

Scoti

Ireland

R1b

Ireland is high % R1b

1500-400BC

Celts

G,I,R1b

Different sources give different haplos. Some also include Gaels, Scoti

55BC-410AD

Romans

Italy

R1b,J,I,E3b

Pickup recruits along the way, could have any European or Middle Eastern DNA

525AD

Suevi

Southern Sweden

I,R1b

Can have R1b, and R1a

400-600AD

Angles

Denmark/Germany

R1b,I

400-600AD

Saxons

Denmark/Germany

R1b,I

Jutes

Denmark/Germany

R1b,I

Frisians

Low Countries

R1b,I

Swedish ancestry

Franks

France

R1b,I,

798AD

Norse

Norway

R1b,I,

Isle of Mann, a viking center of operations.

800sAD

Norse

Norway

R1b,I,

Faroe Islands.

870AD

Norse

Norway

R1b,I,

Iceland.

789-1184AD

Danes/Norwegians

I

Any Viking group will have a % of R1b, and a smaller % of R1a

1066AD

Norman Vikings

Normandy

I,R1b

Mix of Vikings and resident France stock.

1337-1550AD

Low Countries

Flemish and Wallons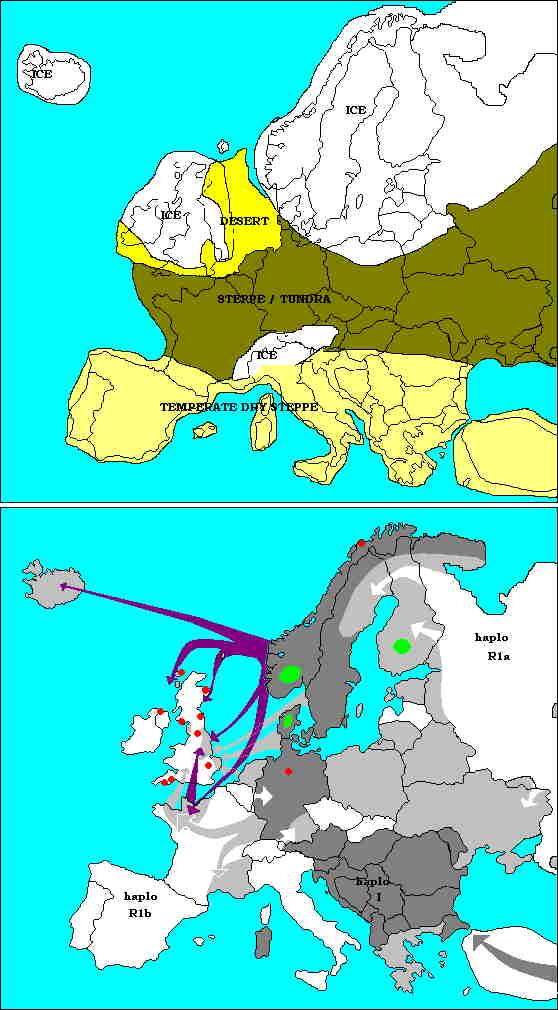 I have been looking at ice age maps, and changable sea level coast maps. They all show less ice than the DNA peoples' ideas. From 24,000 to 13,000 years a ago the ice was in the Alps, but the main ice sheet did not extend south that far. They also claim Siberia and Eastern Asia were warmer than now.?????? The Steppe/Tundra is Steppe in the south and changes to tundra as you travel north.

I am assembling this map and the table below to look for the common thread for the testers who have some relationship to me. The map shows the migratory route of haplogroup I (M170 mutation) in gray. The darker gray is the area 30%-40% concentration. The lighter gray is roughly 15%-30% concentration. The purple arrows represent Scandinavian movement of haplogroup I in more modern times, say, 450AD until 1100AD and the time of William the Conqueror. Latvia, Slovakia and the Czech Republic have under 15% density. There are a few higher density areas in Russia such as, Adygea, Belgorod. This chart basically concerns itself with haplo "I". To see more about other haplos try this PDF pie chart.

The 3 green elipses represent concentrations of I1a-uN, within Haplogroup I. 29% in Norway, 24% Finlad, 16% in Denmark. The concentrations taper down to 3% in southern Germany. In the Anglo-Saxon version of haplogroup I there is no incidence of uN mutations.

Each red dot represents a family line from the table below. I hope to find a cluster of dots somewhere in Norway, or maybe France. If there are no matches in France that could exlude this DNA from the Normandy Vikings.

There should be a trail of stay behind "relatives".

The lineages listed below are provided by various DNA matching sites. The farthest back is about 1589. I don't expect to find a MRCA before 1000AD, maybe even 450AD(early Scandinavian outflow).

Swedes immigrated to England in 525AD. Viking incursions didn't start with the Lindisfarne monastery in 793, but that was the begining of serious raiding.

I need to consider the "bowl of meal Gordons" as a possible branching place. This would possibly attach me to another line about 1350AD. A Gordon Lord (possibly Alexander Seton/Gordon) offered that anyone could take the name Gordon in exchange for a "bow a meal".
Genetic Distance info
DNA, test matches
Kit #
Genetic Distance @25 Markers
Family Names
Location
Farthest Ancestor
Notes

2

Anderson

Norway

Ole b 1828

Possible root in Sweden, Denmark, or Northern Germany.

1

Bentley

Lancashire, Derbyshire, Yorkshire, ENG

William b 1589

First found in Lancashire and Yorkshire, England. Many place name originations for this surname

1

Bloomfield

Scotland

&nbsp

&nbsp

1

Blundell

Scotland

&nbsp

&nbsp

4@37

Braithwaite

Cumbria, Yorkshire, ENG

Marmaduke b 1667

1st found in Cumberland or Yorkshire, England. Possible Danelaw importation.

2

Buchanan

Argyll, Kirkudbright, Scotland

Alexander b 1772

2

Crompton

Crompton, Lancashire, England

Descendants in Australia

0

Gordon

Berwickshire/ Aberdeenshire, SCT

Alexander b 1635

4@37

Hemmingsen

Hemmings is a Pict name

. Search map for Tromso, Trom, Norway.

1

Johnson

Scotland

1

Karlyle

Scotland

&nbsp

&nbsp

2

Lewis

Isle of Lewis?

MacLughaidh

2

Mac Innes

Scotland

Donald b 1812

Duncan 1818 Glen Coe SCT

1

MacIntyre

Scotland

&nbsp

&nbsp

1

MacLaren

Scotland

1

McConley

Argyll, Scotland

McOnlea

1

McNeill

Islands west of SCT.

Daniel b 1750

displaced Scotsman

1

Miles

Scotland

&nbsp

&nbsp

1

Minter

Scotland

&nbsp

&nbsp

1

Neely

Scotland

&nbsp

&nbsp

1

Neese

Scotland

&nbsp

&nbsp

2

Ottesen

Belgium?

Otto's son

2

Presley

Germany

Johanne Valentine Pressler

1

Riggs

Lancashire ENG, Ross, Cromarty SCT

Earlier resided in Ayrshire SCT.

1

Robbins

Scotland

&nbsp

&nbsp

1

Sole

Cambridgeshire, England

Valery b 1620

Name is a reference to Subligny, Normandy, France. Came with the 1066 invasion.

1

Syms

Kingsteignton or Devon England.

John b 1740

First found in East Lothian, Scotland. Interesting DNA page

2

Tipton

Eng slave ship to Jamaica/England

Jonathan b 1659

1st found in Shropshire, England. Possibly Dunbar/Worchester prisoner, transported 1651/52.

2

Wagley

Norway/Sweden

1

Wamstad

Scotland

&nbsp

&nbsp

1

Ward

Scotland

&nbsp

&nbsp

2

Weddle

Scotland

First found in Midlothian, Stow Parish, Wedale, near Edinburgh.

1

Whittaker

Scotland

&nbsp

&nbsp

4@37

Wilcox

Leichestershire,Eng

Anglo-Saxon, Germanic origination

1

Yates

Gloucestershire, England

Name came with the Normans in 1066 Invasion. First recorded in 1198
While working on the above charts, I see multiple paths that would move this basic DNA into the British Isles. Migration must have been up to Norway first. Then after the development of the I1a-uN2 mutation, some of this line spread from Norway back through Denmark to Germany and Belgium, to become part of the Anglo-Saxon/Jute migration to England, during the same time frame the Suevi(Sewdes)were also moving in. Slightly later more of this line would have been part of the Rollo group in Normandy, France that led to the 1066 Norman invasion of England. Through all that time there could still have been men on the Viking raiding ships, and small settlements all around the British Isles. With the above information I make these 2 assumptions;
Fisrt, some of these people were in the British Isles before surnaming became the norm, so they get different surnames from locations, professions or whatever. That helps to explain some of the different surnames.
Second, they don't all come from a single, British Isle, source ancestor. There are multiple immigrations, of this DNA stock, to the British Isles. Possibly some started from Viking settlements in the Shetland Islands, or the Northeastern Scottish coast line, or the Danelaw influx. Covering a time frame from as far back as 400AD and continuing through 1066AD. There is also the possibility of Normandy invasion particapants, bringing the DNA. A couple of the surnames , Sole and Yates, came from France with the Normans.
I would think some of the listings might connect in the British Isles, but some will not link until we come to the common Norse ancestor. In my opinion having something like the I1a-uN2 rather than undifferentiated I is a positive. Now you know you have a stopping point in Norway or Northern Sweden, followed by a trip back through Germany to the Balkans.

DNA, "Y" Chromosome, Segment; DYS#
Kit #
Family
Dates, Location
or other
Pertinent
Information
H
a
p
l
o
g
r
o
u
p
3
9
3
3
9
0
1
9
3
9
1
3
8
5
a
3
8
5
b
4
2
6
3
8
8
4
3
9
3
8
9
|
1
3
9
2
3
8
9
|
2
4
5
8
4
5
9
a
4
5
9
b
4
5
5
4
5
4
4
4
7
4
3
7
4
4
8
4
4
9
4
6
4
a
4
6
4
b
4
6
4
c
4
6
4
d
4
6
0
G
A
T
A

H
4
Y
C
A

I
I

a
Y
C
A

I
I

b
4
5
6
6
0
7
5
7
6
5
7
0
C
D
Y

a
C
D
Y

b
4
4
2
4
3
8
Loci --->
1
2
3
4
5
6
7
8
9
10
11
12
13
14
15
16
17
18
19
20
21
22
23
24
25
26
27
28
29
30
31
32
33
34
35
36
37
35965
3 changes since a common ancestor born 1635????
Predicted
I1a
13
23
22
14
10
14
15
11
14
11
12
11
28
15
8
9
8
11
23
16
21
29
11
14
14
16
10
10
19
21
14
14
17
19
20
37
36
38
12
10

Modal haplotype I1a-uN2

13
23
14
10
14
15
11
14
11
12
11
28
15
8
9
8
11
23
16
20
29
11
14
14
16
10
11
19
21
14
14
17
20
35
38
12
10
This DNA fits into the I1a-uN2 type. There are 2 additional markers 461, and 462, that aren't part of the normal 37 marker test. Ken Nordtvedt has an interesting page about haplogroup I . His studies indicate the differences within haplogroup I. In I1a-uN2, the uN2 denotes ultra Norse2. uN2 is more likely to be from Norway rather than Sweden or Denmark, and certainly wouldn't derive from south of the Baltic or North Sea. In view of this information the above DNA is descended from Norwegian Vikings. Actually the mutations that distinguish I1a-uN2 took place in Scandinavia. That should make it easier to find a common link there. Having this Haplotype will definantly narrow the field of search. YSTR places this DNA in haplotype I1a-#26.
The haplotype for the Angles, Saxons, and Jutes is refered to as I1a-AS. I will have to study further to see of uN2 has been renamed to I1a...something or other.
Whit Athey has a haplogroup predictor available, which calculated these results as a 68% fit into I1a. Along with the haplogroup, FTDNA generates an REO (Recent Ethnic Origin) table. The REO for this DNA matches 4-6% of testers in Norway, Iceland, Isle of Mann, and Scotland.
Using the 25 marker tests, there are 1 step matches with surnames Andersson, Johnson, and McConley. There are 2 step matches with surnames Buchanon, MacInnes, MacLaren, Ottesen, Tipton, and Yates. However when you step up to the 37 marker test the results change considerably. The closest relationships are 4 steps. Braithwaite, Hemmingsen, and Syms are the only ones left. People in the know say these markers are slow to change. Perhaps 1 change every 500 generations. Using that math, I would not be related to Braithwaite, Hemmingsen, or Syms within 10,000 years. I probably share a common ancestor with these particular testers. Their DNA tests are as varied as the Gordon, with multiple groupings, which indicate multiple originations for their surname (or some other method was used to transfer that particular DNA). The Tipton surname arrived in America about 100 years after Alexander Gordon. The Andersson, Buchanon, and Johnson testers are in Scotland.
Rollo 1st Duke of Normandy, was born in Maer, Nord Trondelag, Norway between 845 and 870 AD. His band is the basic stock for the Normandy France people that invaded England in 1066. It doesn't exclude this DNA lineage, but doesn't prove anything yet.
At this point in time we have a 12/12 a 36.5/37, and a 37/37 match up with other Alexander Gordon descendants. The 36.5 and 37 matches both descend through Thomas(6) Gordon born 1678.
---