---
The Progenitors
EWERS
HOME
---
The 1840 Mendon, Monroe, NY census lists Asa as 30-40 his wife is 20-30, they have 2 daughters, 1 <5 the other 5-10.
For 1850, I would suppose his wife's name is Olive or possibly Alice, it is Olive in the Ancestry.com index. She is listed in the Ray, Macomb, MI census as 38, born in NY. Children include Nancy M, 11; Ellen(or) L, 8; Norman, 5; all born in MI and Jane 14 born NY. Jane is at the bottom of the list, does that mean anything? I suppose Jane is a sister, or neice to either Asa or Olive.
There are 2 War of 1812 veterens named Asa Ewers, my Asa is too young to have fought then.
 
 1 REG'T (HOPKINS'), NEW YORK MILITIA.     MUSICIAN  MUSICIAN   
18 REG'T (DOBBIN'S), NEW YORK MILITIA.     PRIVATE   PRIVATE  

A very interesting note is that Emery Bowen and Deborah Elizabeth Gordon, followed by Amos Bowen are above the Ewers. Olive would be born about 1812. Could this Olive be a sister to Emery and Amos?
---
After Mathews death at the age of 41, Nancy remarried Charles J RAYMOND. She bore him a daughter, Georgia M Raymond, in 1881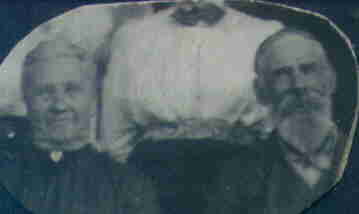 Left, Nancy Marie Ewers and Mathew L Gordon.
The 1860 Woodstock, Lenawee, MI census shows Norman Ewers living with Mathew and Nancy Gordon. He is 16 years old and born in MI?.
There is a gravemarker web site that has a stone for Nancy M Raymond.